People, Not Polluters -a first-of-its-kind digital rally
A few days ago, MPs Laurel Collins (NDP), Elizabeth May (Green Party), and Nathaniel Erskine-Smith (Liberals) joined a 1000-person digital rally to receive over 56,000 petition signatures calling on a bailout for #PeopleNotPolluters.
It was incredibly exciting to have MPs from three political parties come to a rally to receive petition signatures, and answer questions straight from rally attendees -- a feat that would have been difficult or near impossible to do at an in-person rally. (If you missed the rally --check out this video recording of it here!
I'm in complete awe. This digital rally was part of a fierce escalation of our campaign to stop the bailout of Big Oil last week. And, just yesterday -- Finance Minister Bill Morneau's office said there's still no timeline for a bailout package, despite promising an oil and gas bailout weeks ago.
This shows the pressure of our campaign to bailout #PeopleNotPolluters is working! And, it reminds me that the sum of all of us working together and holding political leaders to account is how we'll win a just transition and a Green New Deal for all.
It all started last Tuesday when we decided to throw caution to the wind and launch a creative new digital tactic to demonstrate the power of our movement to stop Big Oil, while we can't take to the streets in the time of COVID19 physical distancing.
A digital rally sounded huge - and scary - because we had never tried to pull one-off. In fact, we didn't think anyone had tried to pull off a thousand-person interactive petition delivery before. But in collaboration with allies at Sustainabiliteens, Our Earth Our Future, Dogwood BC and Stand.earth, we decided to go for it.
When the clock struck noon on Friday, April 3rd, almost 1000 people joined us online for a live, interactive, digital rally to deliver over 56,000 petition signatures to MPs -- calling on parliament to stop the bailout to Big Oil. Our rockstar MCs from Sustainabiliteens led us through an hour-long program that included speeches from Chief Judy Wilson of the Union of BC Indian Chiefs, Tzeporah Berman from Stand.earth, and Alexandra Woodsworth of Dogwood BC.
Elizabeth May from the Green Party, Laurel Collins from the NDP, and Nathaniel Erskine-Smith from the Liberal Party joined the video call to accept a digital file of our signatures - that we sent live, during the video call!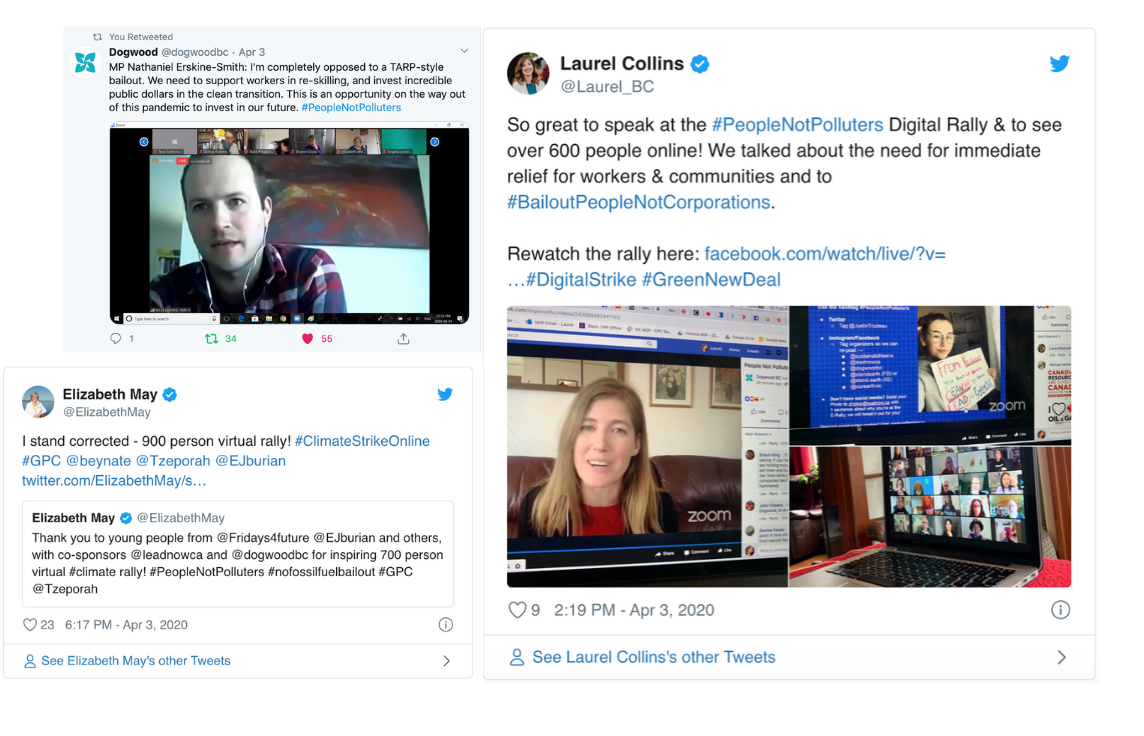 Each MP promised to take our message back to Ottawa and gave us their word they would staunchly oppose any bailout of the oil and gas industry that put Big Oil CEOs before the workers and communities hit hard by COVID19.
Our "e-rally" was highly interactive -- and included live polls, a tweet-storm directed at Prime Minister Trudeau, a group photo, speeches from Tzeporah Berman and Chief Judy Wilson of the Union of British Columbia Indian Chiefs, and ended with a live Q&A session with all MPs.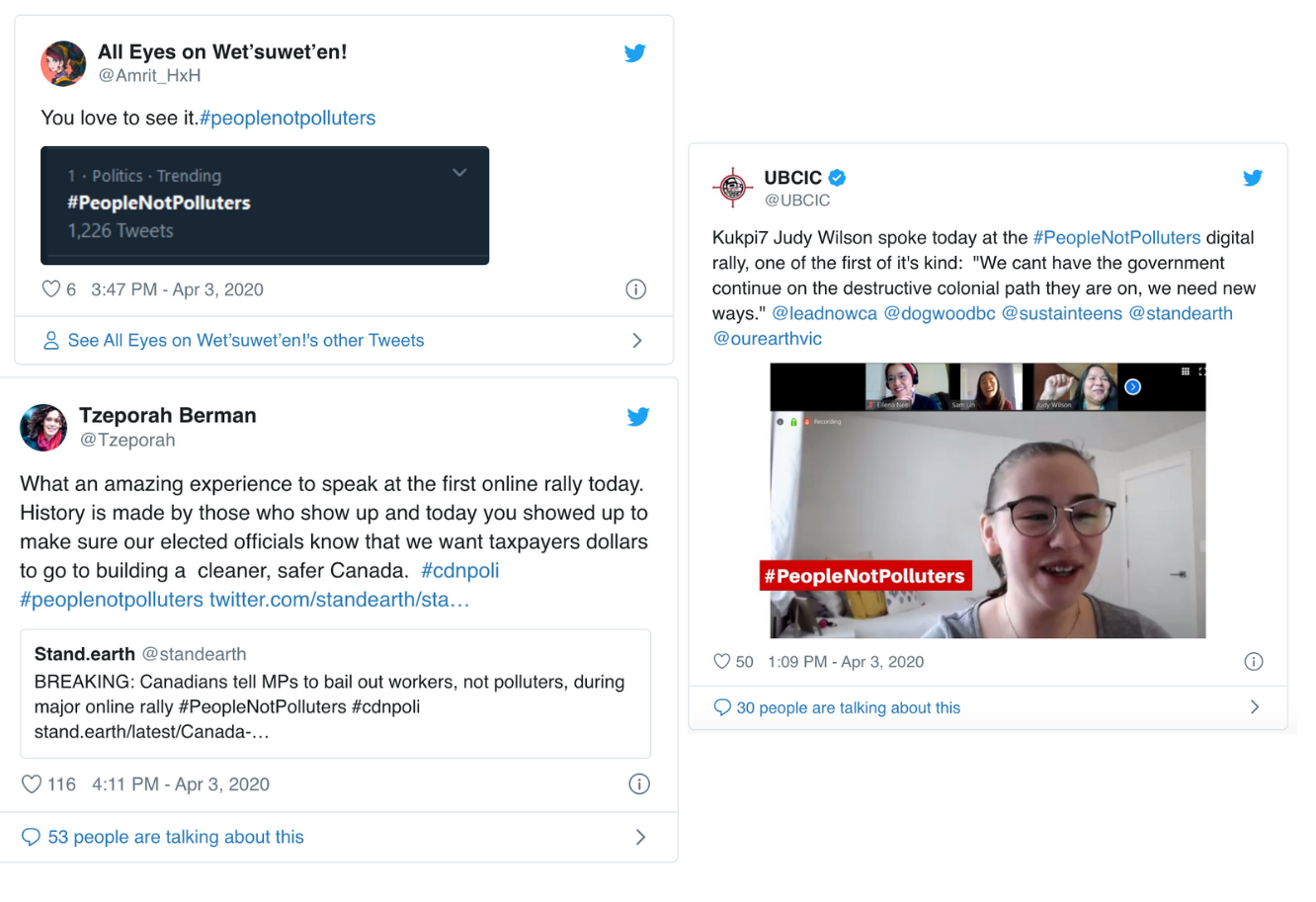 The rally allowed people from across the country to demonstrate their support for our campaign by showing up with their face in a tiny video screen. We even had a group chant at the end, where each of the thousand participants was unmuted -- and luckily, we didn't crash the video call! By the end, our hashtag #PeopleNotPolluters was trending on Twitter!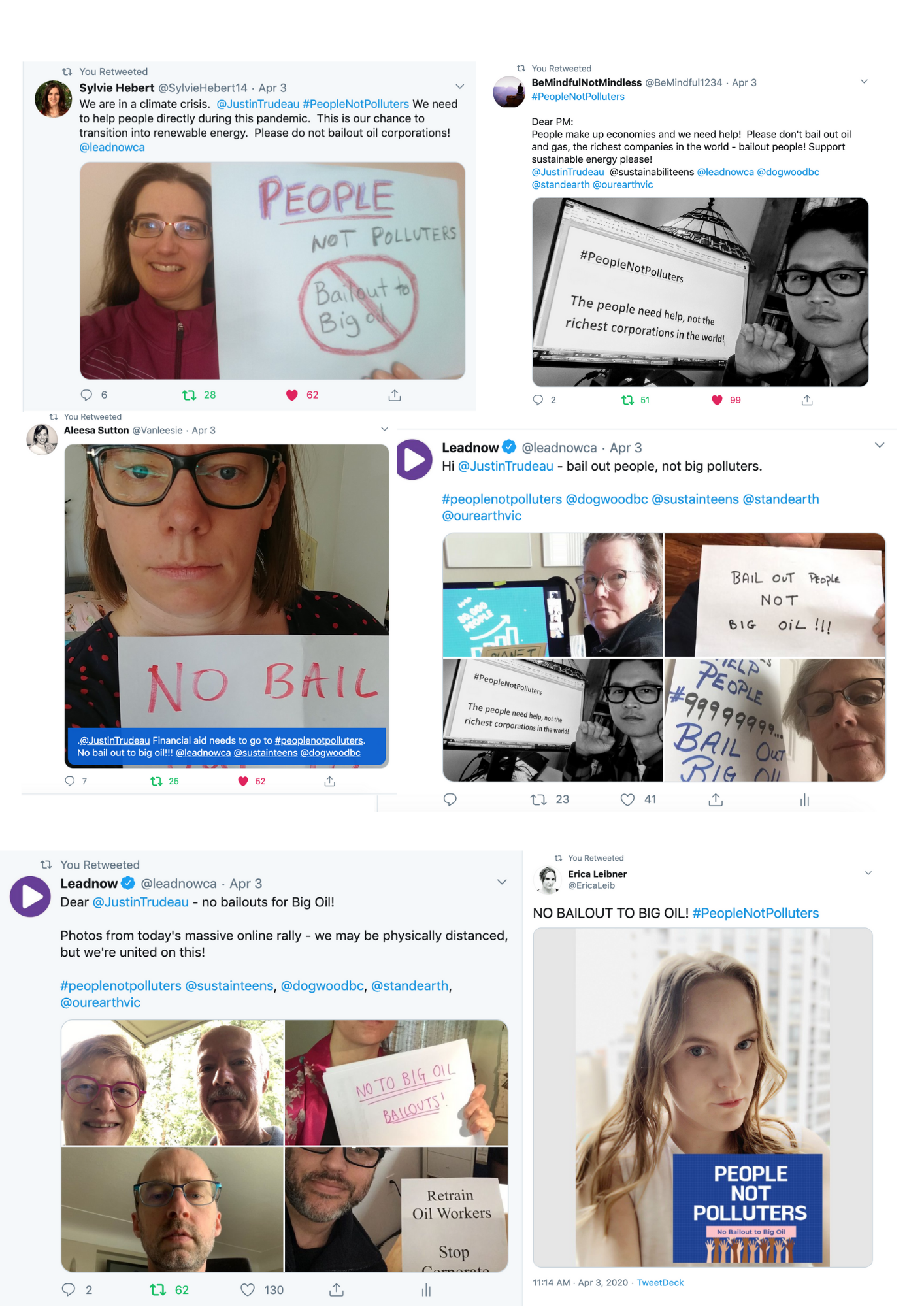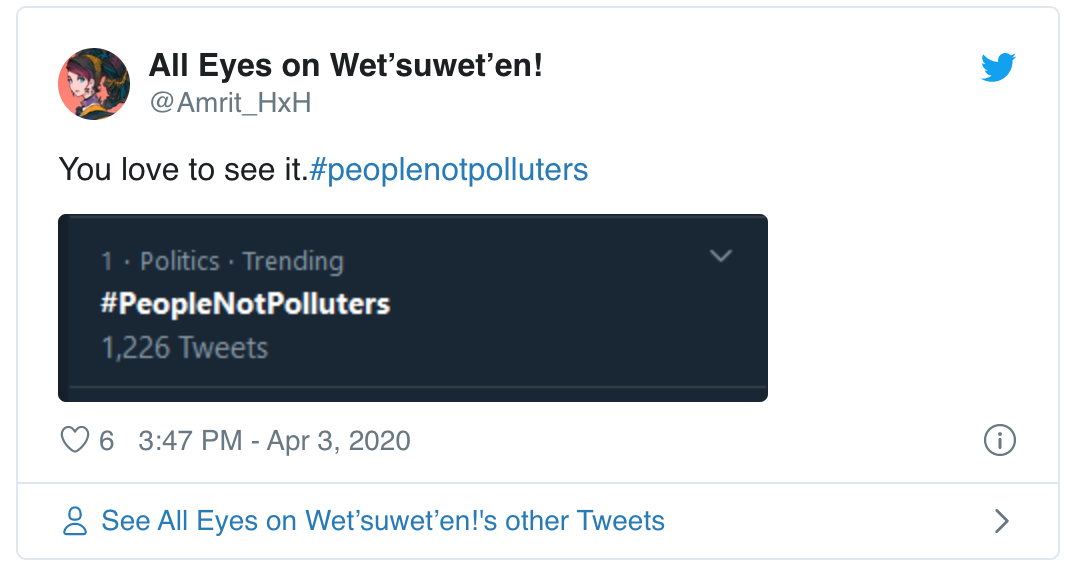 It's incredible campaign moments like these that remind me that
the power of social movements and people coming together to demand long-term, structural change is truly how we're going to pave the way to a just transition and a renewable energy economy that leaves nobody behind.
The COVID19 crisis is showing that we can radically change how we do things to protect our collective wellbeing, and the choices we make now can set us on a path to a better, more sustainable future.
Thanks to your pressure, the Big Oil bailout hasn't happened yet -- but to win a bailout that supports #PeopleNotPolluters, we must continue to push and hold our leaders to account. And I'm immeasurably grateful to work alongside you in this fight.
Onwards,
Cherry on behalf of Leadnow