News from Leadnow
Job Opportunity: Campaigns Manager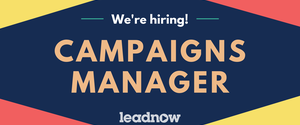 Thursday, August 4, 2022
Position:
Campaigns Manager
Posting date:
Thursday August 4, 2022
Closing date:
Monday September 5, 2022 11:59 Pacific Time
Start date:
As soon as possible
Location:
Flexible, with preference for Toronto or Vancouver
Compensation:
$64,555.44, plus benefits including paid vacation and sick leaves.
Leadnow is a BCGEU-unionized workplace. Note: we are working a 4 day, 32 hour, Mon-Thurs week as of Feb 1, 2022, salary unchanged, with the intention to ratify in the collective agreement after the trial period.
read more »