News from Leadnow
EXTENDED: Leadnow is looking for our next ED! (Job Posting)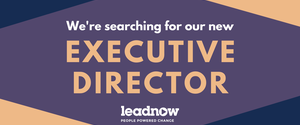 Thursday, March 24, 2022
Deadline to apply extended to: 11:59pm Pacific, Sunday, May 15, 2022

We are looking for an Executive Director to lead one of Canada's most high-impact and far-reaching progressive campaigning organisations into a new decade.
With many ongoing policy, awareness and issues campaigns, Leadnow connects a community of more than 600,000 Canadians with a total annual budget of more than $1.5 million. With organizing, technology and unionized staff working a 4-day work week, the new Executive Director at Leadnow will be in a unique position to effect change in Canada.
read more »